Mike Sessei wrote:
...and after reading that good write-up about your beautiful machine, 95naSTA, how did you come to settle on your custom coilover setup? Just lots of trial and error, or was there something out there that was just similar enough? It was an Eibach coilover, yes?

Yeah a crap ton of trial and error. It was/is one major evolution.
Those springs that speedyguy sold were one off's and as far as I know it was the first 92-99 that was lowered via drop springs. (smellbird)
The second was paulnold and we went with 1-off coilsprings.com drop springs that were a 1.5" drop and F41 spec stiffness.
I followed suit with coilsprings.com except went with a 2" front and 1.75" rear and GR2s.
This setup was pretty stiff, handled great in turns, but was far from ideal on the highway. The front end would bob up and down after larger dips showing that those GR2s could not keep up with the drop and spring rate. I got into an accident that totaled that car.
Keep in mid that the offset on those wheels isn't too agressive and it seems a little lower than it really is.
For my current car I set out for improved dampening. OEM replacements were not going to cut it.
I was originally going to do Koni inserts into cut OEM shocks and coilsprings.com springs but found out some interesting info junkyarding.
KYB AGXs for the W-bodies have been out for a while by then for the W-body community and they seemed to be remedying any pogo issues those guys were having. I knew that they wouldn't bolt up but found that they would to the 00+ H-body knuckle and that it had the same balljoint/hub/tie-rod end orientation as the 92-99. The GP knuckle probably could have worked but it would have been pushing the limits of tie-rod end length.
Another thing that pushed me toward the use of another knuckle is front brake upgrade options. With the GP or 00+, 12" brake upgrades were possible.
A W-body strut could obviously use W-body drops springs just so long as the top of the spring had the same ID as a 92-99. And it did.
The last minor snag was the shaft diameter. The W-body's was slightly smaller, So I found a radiused washer to enlarge the contact point of the top mount and shimmed it where it went through the top mount.
I used Eibach springs and it lowered the front end quite a bit. I want to say around 2.5-3". For the rear I used coilsprings.com custom 2" drop springs and Monro Matic Plus air assist struts so I could dial in the ride height if need be.
That setup was amazing. Decently low, handled great, not real harsh, no pogo, and unparalleled braking with any 92-99.
The write-up for this setup is here:
http://95nasta.infiniteboost.com/wp-con ... e_1pt1.pdf
But, I wanted lower. I tried another set of W-body springs that should have made it lower but it didn't. Then tried a custom 3.5" W-body front drop spring and that also didn't get it any lower. It wasn't near the bump stops or anything; it just didn't work out as planned.
During this time period, I had issues with my passenger side axle where there wasn't enough slack in the boot and it would pull off the outer CV. The more aggressive axle angle was finally taking its toll. I was able to fix it by pushing the inner side of the outer CV outward giving the boot more slack and it stopped giving me issues.
I wanted to go lower but I knew I was already pushing the limits of the axles. So, I raised the entire drive train 1.5" using aluminum blocks (front/TA) and modified brackets (rear/dogbone). This put the axles back close to neutral.
1.5" blocks:
Modified rear mount. I cut washers as necessary to make a flat mounting surface for the trans
The first iteration of the dogbone mount. The problem with this is it put the dogbone below the subframe.. I went to avoid an accident on the highway as someone was kind enough to make a 90* turn in front of me at 55 mph.. and my right wheel caught a Jersey barrier. It put me up in the air enough to bottom out my subframe, punch that dogbone, crack the diff housing plus case and shift the diff enough to damage the pinion gear. The trans was ruined.. You can see the mount hanging in the second pic.
I ended up replacing the modified mount for a stock one and used a
Rodney Dickman Fiero adjustable dogbone
. Spinning it down almost all the way get's it lined up.
Before and after axle angle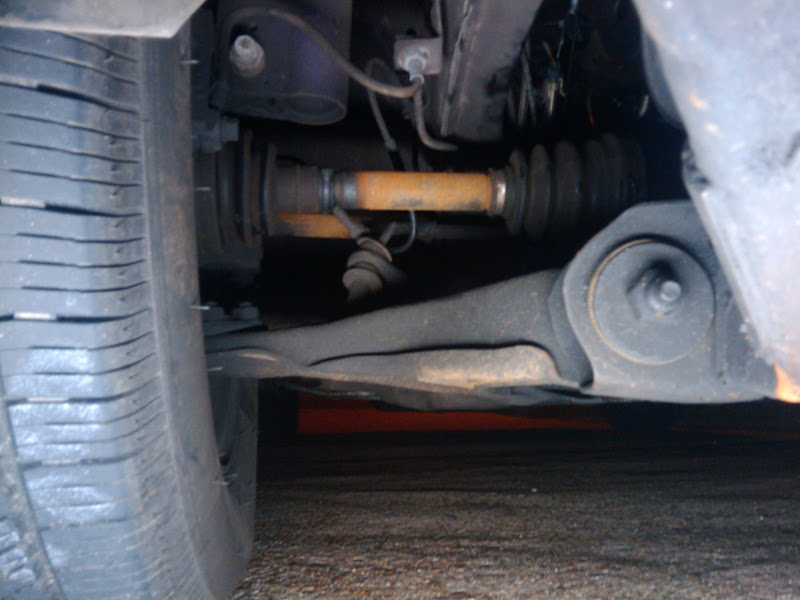 And finally I decided to go to a DIY coilover sleeve setup up front, similar to what the GP guys do. I cut the perch off the AGXs, put a sleeve on, 400lb springs, bearings top and bottom and welded a section of 2.5" pipe to the top mount to center the spring up top. For the rear, I went with a 3" custom drop spring.
This setup netted zero wheel gap, an even nicer ride, good handling, and no cv boot issues. I figured out what the lowest ride was that could work as a DD with very little issue. I surprisingly still have decent ground clearance too.
That's the major thing will all of my setups. The ability to DD. Up until I started my winter build I drove my car every day, anywhere and everywhere. Just the past summer I had 4 people and a jam packed trunk on a mini road trip. No problems. Air assist shocks are the truth.
Right now I have a few things in the works to improve the roll center, top mounting, and fender clearance. So, the limits will be pushed once again.
_________________
95 SLE... a keeper. 241k miles. Low and Slow.
97 BMW 528i
98 Infiniti vq35'd i30: 13.3@104mph, 30MPG Hwy (RIP)
02 Jag X-type
03 BMW M5
05 Chevy Cobalt LS
07 Infiniti G35s 6MT (Sold)
07 Ducati Monster S2R 800 with DS1000 swap
83 Yamaha IT175K
72 Yamaha DS7: '74 RD250 swap, JL chambers
Info on dropping a 92-99:
Here.